Welcome to Temple Beth El – Jefferson City
Our historic building was constructed in 1883 and is the oldest synagogue west of the Mississippi in continuous use.
Shabbat Services are held every Friday night at 7:30 and visitors are always welcome. Our congregation includes 25+ families, with members of all ages. Temple Beth El is affiliated with the Union for Reform Judaism.
Purim – March 6th
Please join us for our Purim Celebration this year as we try something new!  Shelley will read a child-friendly version of the Megillah to celebrate the story of Queen Esther at 6:00 pm. Snacks, including Hamentashen, will be served afterwards.  The regular Shabbat service will follow at 7:30. Children, young-at-heart, members and guests are all welcome at 6:00 pm to celebrate Purim, and stay through Shabbat. Everyone is encouraged to wear costumes.  Noisemakers will be provided. Please come join the fun as we celebrate this lively holiday!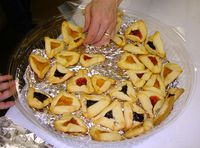 Eva Kor Movie – Sunday, March 8th
Join us for a 2:00 pm showing of the movie about the life of Holocaust survivor Eva Kor.  As a ten-year-old "Mengele Twin", Eva Kor suffered the worst of the Holocaust, but 50 years later decided to forgive the Nazis.  Leah Simpson, Director of the Candles Holocaust Museum and close friend to Eva will be available to answer questions after the movie. For more information please contact us.
Passover
The Congregation will celebrate the 3rd night of Passover (April 10th) with a Passover Seder. Please contact us for more information.