Welcome to Temple Beth El – Jefferson City
Our historic building was constructed in 1883 and is the oldest synagogue west of the Mississippi in continuous use.
Shabbat Services are held every Friday night at 7:30 and visitors are always welcome. Our congregation includes 25+ families, with members of all ages. Temple Beth El is affiliated with the Union for Reform Judaism.
Our services are always available on Zoom and beginning April 9th we will begin limited in-person services.  Please contact us if you would like the Zoom code or would like to attend in-person.
Passover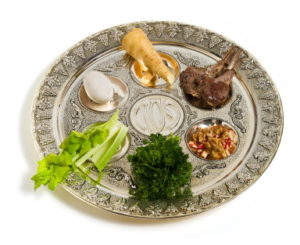 The Jewish holiday of Passover begins on the evening of March 27 and lasts for 8 nights.
Passover (Pesach in Hebrew) is a major Jewish spring festival celebrating freedom and family as we remember the Exodus from Egypt more than 3,000 years ago. The main observances of this holiday center around a special home service called the seder, which includes a festive meal, the prohibition on eating chametz, and the eating of matzah.
On the 15th day of Nisan in the Hebrew calendar, Jews gather with family and friends in the evening to read from a book called the Haggadah, meaning "telling," which contains the order of prayers, rituals, readings, and songs for the Passover seder. The Haggadah helps us retell the events of the Exodus, so that each generation may learn and remember this story that is so central to Jewish life and history.
Zoom Shabbat will continue as we begin to slowly reopen the synagogue for in-person services.
Temple Beth El will be opening for in-person services on a limited basis starting April 9th.  Please send a message using the contact form above if you are interested in attending. If you would like to join us on Zoom please send an email through the contact form above, and we will be happy to send you the zoom code.