Welcome to Temple Beth El – Jefferson City
Our historic building was constructed in 1883 and is the oldest synagogue west of the Mississippi in continuous use.
Shabbat Services are held every Friday night at 7:30 and visitors are always welcome. Our congregation includes 25+ families, with members of all ages. Temple Beth El is affiliated with the Union for Reform Judaism.
We are now open for in-person Shabbat Services on Friday nights, and also offer a Zoom option.  Our COVID policy requires unvaccinated members and guests to wear a mask.   Please contact us if you would like the Zoom code.
Student Rabbi Becca Diamond led High Holiday Services as we welcomed the year 5782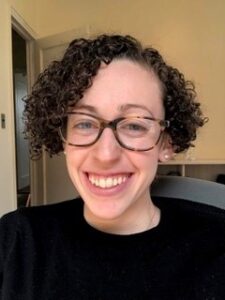 Student Rabbi Becca Diamond treated us to beautiful services for Rosh Hashanah and Yom Kippur this year. She brought many gifts to the congregation including her lovely voice, guitar music,  mastery of the Mahzor, and her Zoom expertise.
We were very grateful to have services both in person and on Zoom. We welcomed many faces both familiar and new this year and were glad to spend the holidays together.