Welcome to Temple Beth El – Jefferson City
Our historic building was constructed in 1883 and is the oldest synagogue west of the Mississippi in continuous use.
Shabbat Services are held every Friday night at 7:30 and visitors are always welcome. Our congregation includes 25+ families, with members of all ages. Temple Beth El is affiliated with the Union for Reform Judaism.
Extra Special visitor at  our On-Line Shabbat!
In keeping with recommendations to minimize public gatherings, Temple Beth El has moved our regular Shabbat Services to the on-line format using Zoom.
This week we were delighted to have a very special member attend our Zoom service. Jean Hiersteiner is a granddaughter of Temple Beth El founders, Hannah and Joseph Straus. Jean will turn 100 later this year and is the oldest member of our congregation. She lives in Kansas and visited the Temple back in 2013. Back then we had a chance to share stories about her grandparents and our Temple history.  Now that we are conducting services via Zoom, Jean and her family were able to join us for a shabbat service.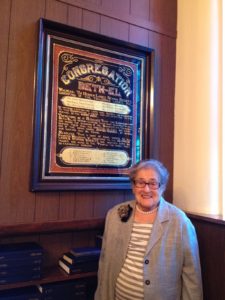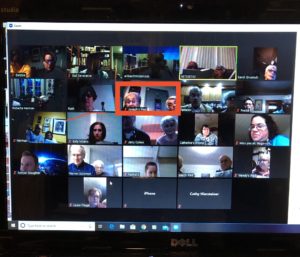 If you would like to join our service on Friday night please send us an email for the code.
We look forward to the day when we can be together in person again, but until then please stay safe and at home.