Welcome to Temple Beth El – Jefferson City
Our historic building was constructed in 1883 and is the oldest synagogue west of the Mississippi in continuous use.
Shabbat Services are held every Friday night at 7:30 and visitors are always welcome. Our congregation includes 25+ families, with members of all ages. Temple Beth El is affiliated with the Union for Reform Judaism.
We are open for in-person Shabbat Services on Friday nights, and also offer a Zoom option.    Please contact us if you would like the Zoom code.
Masks will be required during the High Holiday services.
High Holiday Schedule:
Sunday, Sept 25 – Erev Rosh Hashanah 7:30 pm
Monday, Sept 26 – Rosh Hashanah – 10:00 am,  Tachlich 2:00 pm at the river
Tuesday, Sept 27 – Rosh Hashanah 2nd Day – 10:00 am 
Tuesday, Oct 4 – Erev Yom Kippur – Kol Nidre – 7:30 pm
Wednesday, Oct 5 – Yom Kippur 10:00 am, Afternoon service 2:30 pm
                                    Concluding service 5:30 pm 
Student Rabbi for the High Holidays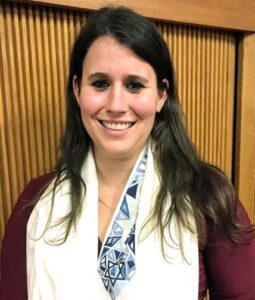 We are very pleased to announce that Student Rabbi Remy Liverman will be leading our High Holy Day services this fall.  Remy is originally from Canada and has spent time in Israel, Atlanta, Ohio and Indiana.  She is in her 5th and final year at the Hebrew Union College in Cincinnati. We look forward to welcoming her this Fall.  Rosh Hashanah begins on the evening of September 25, 2022 and Yom Kippur begins on the evening of October 4, 2022.