Welcome to Temple Beth El – Jefferson City
Our historic building was constructed in 1883 and is the oldest synagogue west of the Mississippi in continuous use.
Shabbat Services are held every Friday night at 7:30 and visitors are always welcome. Our congregation includes 25+ families, with members of all ages. Temple Beth El is affiliated with the Union for Reform Judaism.
We are open for in-person Shabbat Services on Friday nights, and also offer a Zoom option.    Please contact us if you would like the Zoom code.
We Stand with Israel
In response to the devastating Hamas terrorist attacks on Israel please join us in support and solidarity. Israel needs our love, support and connections more than ever. Please pray for peace and security for Israel now and in the months ahead. For those who wish to donate several good charities include Magen David Adom, Hadassah and The Jewish Federation's Israel Fund.
Happy Hanukkah!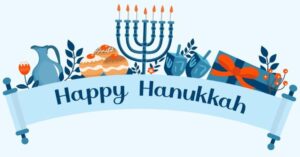 The Hanukkah holiday begins at sundown on Dec 7 and runs through Dec 14. Please bring your menorah on Dec 8 and we will light them together before the Shabbat service.
Fun Fact: There are many ways to spell Hanukkah and they are all correct: Chanukah, Hanukah, Hannukah, and lots of other variations!
NCJW Tour
A group from the National Council of Jewish Woman recently toured the Temple and learned about our history. The story is available here.