Welcome to Temple Beth El – Jefferson City
Our historic building was constructed in 1883 and is the oldest synagogue west of the Mississippi in continuous use.
Shabbat Services are held every Friday night at 7:30 and visitors are always welcome. Our congregation includes 25+ families, with members of all ages. Temple Beth El is affiliated with the Union for Reform Judaism.
Donation to Samaritan Center
Temple Beth El Supports the Samaritan Center
Temple Beth El is pleased to donate this beautiful wooden planter to the Samaritan Center Dinner Auction on July 11.  A lucky winner will go home with this hand crafted planter from Alley Cat Design Studio in Springfield, Missouri. It is filled with succulents and can be set on a table or hung vertically.  If you look carefully you can find many Missouri heroes hidden among the plants.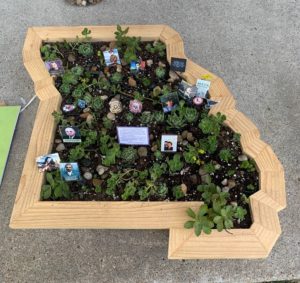 High Holiday Services
We are very please to announce that student rabbi Alicia Harris a 5th year rabbinical student from the Hebrew Union College in Cincinnati will be leading our services for Rosh Hashanah and Yom Kippur this fall. A complete list of services will be available soon on this website.