Welcome to Temple Beth El – Jefferson City
Our historic building was constructed in 1883 and is the oldest synagogue west of the Mississippi in continuous use.
Shabbat Services are held every Friday night at 7:30 and visitors are always welcome. Our congregation includes 25+ families, with members of all ages. Temple Beth El is affiliated with the Union for Reform Judaism.

Simcha Torah
The congregation celebrated the holiday of Simcha Torah with a festive event, that included passing around the mini Torah and unrolling it. The holiday marks the time to rewind the Torah from the end of Deuteronomy back to the beginning of Genesis.  
High Holidays Highlights
Temple Beth El welcomed a large crowd of members, friends and visitors during the High Holidays. We were very fortunate to have Student Rabbi Natalie Shribman, a 4th year Rabbinical student from the Hebrew Union College, to officiate our services this year.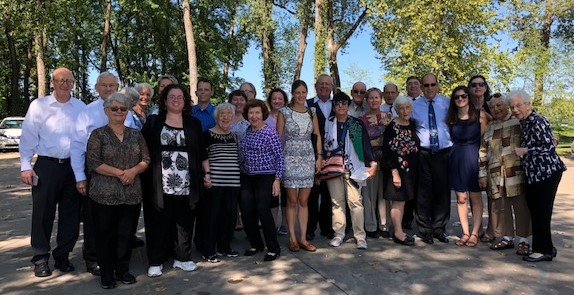 Project Homeless Connect is an annual event in Jefferson City to connect those in need with available resources.  Several members volunteered last year and found it to be a rewarding experience. The volunteer sign-up is now open for the event which will be held Oct 19. http://www.newstribune.com/news/news/story/2018/aug/29/volunteers-sought-project-homeless-connect/740950/
Interfaith Alliance – A one hour presentation about the Jewish faith and the local synagogue will be held on Nov 15 at 7:00 pm at Temple Beth El. The program is free and open to the public.